Description
COVID-19 Vaccine: All current and new team members, Medical Staff and partners, including contractors, volunteers and students, must be vaccinated against COVID-19 or have an approved medical or religious exemption. Learn More
UC MEDICAL ASSISTANT
Job ID: 101649
Area of Interest: Clerical
Location: Bel Air,MD US
Hours of Work: 8a-4:30p
Job Facility: University of Maryland Upper Chesapeake Health
Employment Type: Supplemental/Per Diem
Shift: DAY
What You Will Do:
JOB SUMMARY: Under general direction, assists in clerical support functions, maintains departmental records and files, prepares documents and correspondence, organizes inventory of office supplies and forms, and designs forms, graphs, etc. Assists with chart documentation.  Assists with patient scheduling, registration and insurance verifications and obtaining authorization and/or referral for appointments.  The Medical Assistant is responsible for assisting physicians, nurse practitioners, physician assistant with patient care, performing injections, procedures, and preparing room, clinics and equipment as necessary. MINIMUM KNOWLEDGE, SKILLS AND ABILITIES: Education & Training: High school diploma or equivalency required.  Graduation from accredited Medical Assistant program and certification from the American Association of Medical Assistants required.  CPR required. Work Orientation & Experience: Minimum two (2) years' experience in a medical office or related setting with computer experience; general knowledge of medical terminology; prior experience with insurance verification and scheduling required. EMR experience preferred.  Phlebotomy experience required. Skills & Abilities: Ability to: a) handle multiple tasks simultaneously; b) communicate effectively with patients, medical staff and team members; c) adapt hours of availability to variable and changing needs of the center; d) maintain confidentiality with patients and team member information; e) communicate effectively, orally and in writing; f) answer multi-line phones; and g) work independently and take initiative in achieving center's goals.  Demonstrated skills in: a) computer literacy to include word processing, database and spreadsheets in Microsoft Office Professional software; b) customer service; c) attention to detail with follow-through; and d) strong organizational skills.
What You Need to Be Successful:
We are an Equal Opportunity/Affirmative Action employer.  All qualified applicants will receive consideration for employment without regard to sex, gender identity, sexual orientation, race, color, religion, national origin, disability, protected veteran status, age, or any other characteristic protected by law.
What brings you joy in your role?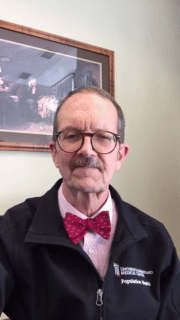 Video length: 57 seconds
0:57
Now I would tell you the thing that brings me the greatest joy in the role that I've had now for half a decade here at the University of Maryland Medical Center is the privilege of caring for our neighbors, the people of West Baltimore, who when you ask them where they go when they're sick or where their loved ones would go if they were sick, they tell you they'd go to University. And by University, they mean us. We're the hospital that serves West Baltimore. We're the hospital really recognized across the city as the place people want to go when they really need help, with something's wrong with them. And increasingly we're recognizing our role in the community as the anchor that brings together all the players to the table to address health-related social needs. Things that healthcare systems never used to really pay attention to. We have the privilege of that role as a part of this institution, and we get to participate in seeing this institution increasingly take on that challenge of our community.

Vice President Population Health
Terms of Service | Need help applying? Contact our HR Connections Service Center: 1-855-486-6747
We are an Equal Opportunity / Affirmative Action employer. All qualified applicants will receive consideration for employment without regard to sex, gender identity, sexual orientation, race, color, religion, national origin, disability, protected veteran status, age, or any other characteristic protected by law. EEO IS THE LAW