Description
COVID-19 Vaccine: All current and new team members, Medical Staff and partners, including contractors, volunteers and students, must be vaccinated against COVID-19 or have an approved medical or religious exemption. Learn More
Thrive Clinic – RN
Job ID: 100655
Area of Interest: Nursing
Location: Baltimore,MD US
Hours of Work: M, W, F 830A-5P
Job Facility: UMMC Midtown Campus
Employment Type: Part Time
Shift: DAY
What You Will Do:
UMMC Midtown Campus THRIVE Center is looking for an experienced Registered Nurse (RN) to work in a busy academic outpatient practice that specializes in the care of patients with HIV/AIDS, Hepatitis, and other Infectious Diseases. A professional nurse in this setting provides direct care and care coordination for an assigned group of patients on his/her care team. THRIVE nurses work in partnership with a multi-disciplinary group of physicians, advanced practice providers, social work, pharmacists, medical assistants and administrative staff to provide compassionate and comprehensive care for our vulnerable population. Nurses utilize the nursing process in the delivery of care to prioritize patient needs. Services include but are not limited to care coordination and navigation services, in person and telephone triage of patient, infusion therapy, monitoring of patients post initiation of specialty medications, discharge follow-up calls and assessment, medication administration, and patient education. THRIVE nurses are essential to improving chronic disease outcomes and reducing hospital utilization and readmissions for our patients.
The CNII (CN-II) is a member of the health care team and renders nursing care to all patients within her/his assigned unit/area, assuring the nursing process is followed from admission through discharge. The CN-II collaborates with other members of the health team, delegates appropriately to support staff and directs care to assure the patient's care needs are met. The CN-II is expected to exercise good judgment in the care of patients and the management of personnel. The CN-II promotes teamwork with physicians and personnel from other units/areas/departments. The CN-II must stay current with standards of practice through ongoing education relevant to nursing, such as the Nurse Practice Act. The RN's actions and attitudes will promote and support the hospital's mission and core values. In addition, the CN-II nurse must have demonstrated the ability to function as charge nurse efficiently and/or precept new staff members. They must be able to demonstrate, document, and teach others as it relates to their unit: core measures, restraints, falls, wound, pain, customer service, National Patient Safety Goals, critical values, patient teaching, and suicide assessment. This nurse is able to competently demonstrate the ability to delegate to and supervise personnel. He/she is able to integrate technical competencies while integrating the biopsychosocial aspects of patient care. He/she demonstrates critical thinking skills in problem solving and caring for groups of patients. He/she consults others for assistance in recognizing his/her strengths and areas in need of professional growth. Professional nursing practice complies with the Maryland Practice Act. He or she demonstrates an understanding of patient safety goals, hospital and nursing quality performance measures, and patient education. He/she ensures best practices are being met for clients and actively collaborates with other disciplines. He/she brings to the attention of supervisory staff issues, which he/she cannot resolve at the unit level. He/she participates in service wide committees, task forces, or planning committees to meet the goals and mission of nursing services, University of Maryland Medical Center Midtown Campus, and the University of Maryland Medical System. He/she anticipates patient needs and becomes proficient at ensuring customer service is outstanding for his/her clients and role models and influences those on the unit.
Principal Responsibilities and Tasks
The following statements are intended to describe the general nature and level of work being performed by people assigned to this classification. These are not to be construed as an exhaustive list of all job duties performed by personnel so classified.
1. Understand and follow policies and protocols and help others with using these resources effectively. Attentive to addressing patient needs in relation to quality measures, National Patient Safety Goals, and patient education.
2. Functions as charge nurse and/or preceptor. Works with supervisor to resolve issues at the unit level.
3. Performs assessments and reassessments, as appropriate for the patient's needs, collecting data from all sources to assist with formulating a nursing diagnosis.
4. Develops an individualized Plan of Care, based on the patient's assessment, with mutual, realistic and measurable goals and documents this thoroughly in the patient's record.
5. Coordinates and directs available resources and personnel in developing and following the Plan of Care.
6. Performs treatments, including medication administration, as ordered by the physician and carries out nursing interventions in accordance with the Plan of Care.
7. Evaluates the patient's response to treatments/interventions through reassessment and revises the Plan of Care as necessary.
8. Documents assessments and reassessments, thoroughly, accurately and on time. Documents any changes to the Plan of Care and communicates these changes to team members. Documents treatments/interventions including medication administration thoroughly and per hospital policy.
9. Assesses patient's teaching needs, and plans patient education accordingly.
10. Completes patient and family teaching, assesses understanding and document accordingly.
11. Communicates and collaborates effectively with other members of the health care team to ensure continuity and coordination of care, appropriate care delivery and to report changes in patient's condition.
12. Facilitates safe and timely patient throughput, including admission/transfer/discharge, diagnostics and therapeutics.
13. Complies with hospital policies and practices in all aspects of care and professional behavior.
14. Follows Joint Commission (TJC) and Center for Medicare and Medicaid Services (CMS) standards as part of routine practice.
15. Assists with annual PCT core competency program.
16. Attends and actively participates in unit staff meetings.
17. Attends and actively participates in shared governance through participation on committees or task forces.
18. Supports Shared Governance.
19. Demonstrates support and compliance with UMMC Midtown Campus' mission, vision, values, philosophy, goals objectives and policies.
20. Meets the continuing education and participation requirements of the clinical ladder.
What You Need to Be Successful:
Registered Nurse; completion of the Preceptor and/or Charge Nurse program preferred.
1. Completion of 30 contact hours, including 12 annual Nursing Spectrum articles.
2. Minimum of 1 year nursing experience.
3. Currently licensed in the State of Maryland.
4. ACLS provider completion within 1 year of employment in the following departments: ICU/IMC, PACU, Interventional Radiology, GI Lab, and ED.
5. PALS completion within 1 year of employment in the following departments: PACU and Emergency Department.
6. BLS provider completion.
***RN experience in an ambulatory or outpatient setting a plus.
We are an Equal Opportunity/Affirmative Action employer.  All qualified applicants will receive consideration for employment without regard to sex, gender identity, sexual orientation, race, color, religion, national origin, disability, protected veteran status, age, or any other characteristic protected by law.
How long have you been with UMMS and what has kept you here?
Transcript
Hi, I'm Sheila, I'm from the ICU. I've been here 12 years. I stayed here and I love it here because we're a small community hospital and this is a great team, so come to Midtown.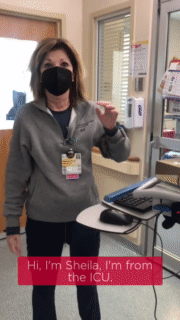 Hi, I'm Sheila, I'm from the ICU. I've been here 12 years. I stayed here and I love it here because we're a small community hospital and this is a great team, so come to Midtown.
Similar Jobs
No jobs found.
Terms of Service | Need help applying? Contact our HR Connections Service Center: 1-855-486-6747
We are an Equal Opportunity / Affirmative Action employer. All qualified applicants will receive consideration for employment without regard to sex, gender identity, sexual orientation, race, color, religion, national origin, disability, protected veteran status, age, or any other characteristic protected by law. EEO IS THE LAW