Description
COVID-19 Vaccine: All current and new team members, Medical Staff and partners, including contractors, volunteers and students, must be vaccinated against COVID-19 or have an approved medical or religious exemption. Learn More
SH CT Radiographer II
Job ID: 110128
Area of Interest: Allied Health
Location: Easton,MD US
Hours of Work: Rotating
Job Facility: UM Shore Regional Health
Employment Type: Supplemental/Per Diem
Shift: ROTATING
What You Will Do:
SH CT Radiographer II
FTE: Supplemental/Per Diem
Shift:Rotating
LocationEaston
We are looking for talented professionals to join our extraordinary team at University of Maryland – Shore Regional Health.
At Shore Regional Health, you can learn, grow and make a lasting impact on patients and families. You'll experience the support of a collaborative work environment and a sense of collegiality unlike any other. Our comprehensive system has many locations and practice options to choose from throughout the beautiful Eastern Shore of Maryland.

JOB SUMMARY:
Under general supervision, performs routine and specialized CT imaging procedures.
ESSENTIAL FUNCTIONS OF THE JOB:
1. Executes basic clinical competence in CT, in all locations, across all patient types. Selects accurate technical factors on an individual patient basis and demonstrates knowledge and skills necessary to provide care appropriate to age of the patient. Observes concepts of Image Wisely/Image Gently for dose reduction. Administers contrast according to facility policy.
Actively participates in the Clinical Ladder Program, if implemented, at the individual System hospital/location, meeting and maintaining all Program standards and requirements.
2. Applies knowledge of CT principles and practices, including anatomy and physiology, radiation safety and physics, patient positioning and patient care skills. Adheres to Joint Commission, State, Federal, organizational and departmental regulatory compliance standards.
3. Documents accurate patient care activity in various electronic health records systems.
4. Ensures a safe and appropriate work environment. Maintains supplies and inventory in area. Informs appropriate colleague when supplies need to be ordered from outside vendors. Documents and reports related equipment/environmental problems in accordance with policy. Follows equipment quality control procedures with appropriate documentation.
5. Actively participates in departmental and organizational performance improvement initiatives and efforts to improve workflows, patient experience and quality. Actively participates in student and employee training and education activities.
6. Performs other duties as assigned.    
What You Need to Be Successful:
Registered with American Registry of Radiologic Technology ARRT (R)
Registered with American Registry of Radiologic Technology ARRT (CT)
Licensed Radiographer/ State of Maryland
Basic Cardiac Life Support Certification
We are an Equal Opportunity/Affirmative Action employer.  All qualified applicants will receive consideration for employment without regard to sex, gender identity, sexual orientation, race, color, religion, national origin, disability, protected veteran status, age, or any other characteristic protected by law.
How has UMMS enabled you to grow your career?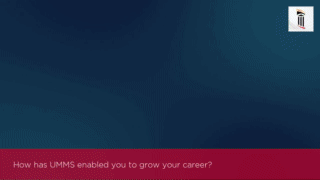 Video length: 49 seconds
0:49
[lively music] Every day is a different day, and that's what I love about nursing. I walk in the door, I get report, and it doesn't matter if it's the same patient I've had for a week, something has changed about the patient. Teamwork here is very phenomenal, between everybody, all units, all floors, we all come together as one when it comes to our patients. [lively music continues] For new grads, one thing that is special to this hospital in particular, that I got to experience coming fresh out of nursing school is the Critical Care University Program. A lot of hospitals don't have a CCU Program. A lot of people that I graduated nursing school with, you know, they got thrown on the floor after three weeks and they precepted and that was it. So I'm very, very fortunate to have had that learning experience and the support that I still have to this day.
Terms of Service | Need help applying? Contact our HR Connections Service Center: 1-855-486-6747
We are an Equal Opportunity / Affirmative Action employer. All qualified applicants will receive consideration for employment without regard to sex, gender identity, sexual orientation, race, color, religion, national origin, disability, protected veteran status, age, or any other characteristic protected by law. EEO IS THE LAW
Related Jobs