Description
COVID-19 Vaccine: All current and new team members, Medical Staff and partners, including contractors, volunteers and students, must be vaccinated against COVID-19 or have an approved medical or religious exemption. Learn More
Senior Registered Nurse-Med Surg
Senior Registered Nurse-Med Surg
Job ID: 101240
Area of Interest: Nursing
Location: Towson,MD US
Hours of Work: 7am – 730pm
Job Facility: UM St. Joseph Medical Center
Employment Type: Full Time
Shift: DAY
What You Will Do:
Senior Registered Nurse (RN)- Med Surg Tele
Full-Time Days
UM Saint Joseph Medical Center
Towson, MD
Health care you can BELIEVE in.
We believe in health care that makes a difference. At the University of Maryland St. Joseph Medical Center, a 218-bed, Catholic acute care hospital located on a 37-acre suburban campus in Towson, we believe in putting our hearts into everything we do, which helped us earn the US News & World Report ranking as the #1 community hospital in Maryland.
We're looking for a Senior Registered Nurse to join our extraordinary team.
When you join our team, you're embarking on a professional journey that encourages growth opportunities, values a team atmosphere, and makes convenience and flexibility a priority. At UM St. Joseph, you can fit your job around your life. You'll find a tremendous variety of departments and units to choose from, and great managers and physicians to work with. Our team members, nurses and allied health professionals enjoy all of the advantages of working in a smaller, close-knit community hospital, located just north of Baltimore City.
2 Central is a medical/surgical telemetry unit that will be opening later this year as part of exciting programmatic changes and new initiatives taking place at University of Maryland St. Joseph Medical Center.  Be a part of this new unit and team from the beginning and play a role in shaping our future and path forward through this unique and riveting opportunity.
WE ARE CURRENTLY OFFERING A $5,000 SIGN-ON BONUS FOR NURSES WITH 2+ YEARS EXPERIENCE.
As a member of our team, you'll experience:
A supportive and collaborative work environment
A comprehensive benefits package including health, vision and dental coverage including prescription drug coverage – Tax-Free Savings Plans, Tuition Reimbursement and more!
Free Parking &
Free Health & Wellness resources to reach your goals including an on-site fitness center, on-site, yoga, indoor and outdoor walking paths, body composition analysis and monthly fitness challenges; recently recognized by Healthiest Maryland Businesses as silver level Wellness at Work award.
Recognition: We have a positive points recognition program designed to reward and recognize our outstanding employees; employees can also recognize their peers
On-Site Daycare
We're led by our engaged workforce, pursuing our True North, and committed to diversity, health equity, and inclusion, while aspiring to be a national leader in patient safety and experience, and integrated, high-quality health outcomes for the communities we serve.
This role is designed for the nurse who is a clinical and professional leader at the unit level.  Demonstrates effective and consistent leadership behaviors in advancing evidence based practices, leading unit governance initiatives, and coaching others to achieve and grow in the role of the professional nurse.  Utilizes the institution's care delivery and professional practice models as the frame of reference for practicing as a professional nurse.  Participates in activities to develop own practice, and to support group practice goals at the unit level.  Is accountable to patient, family and team members for care provided and to the nurse manager for totality of work performance. Is accountable to hold to the Service Standards and to the Nursing Mission, Vision and Values.
Clinical Practice:
Advances clinical practice on the unit; consistently integrates evidence into practice and uses this as a firm foundation for unit practice.
Serves as a clinical expert and professional resource for the unit nurses; mentors and coaches other nurses to advance their development.
Provides nursing leadership in the development and implementation of unit level evidenced based protocols/procedures.
Develops CNI and CNII to effectively function in unit-based roles.
Models collaboration with interdisciplinary team to plan and coordinate care; models independent advocacy for patient/family needs.
Enhances practice consistent with unit operations to ensure safe, timely, effective, efficient, equitable, patient centered care.
Professional Development:
Actively engaged in advancing own practice and models that practice in the development of others at
the unit level.
Mentors and coaches others to achieve and maintain competency required for the patient population
served at the unit level.
Develops, implements, and evaluates unit based staff development activities.
Demonstrates the ability to serve as trained preceptor and coaches CNIIs.
Leads development, implementation, and evaluation of unit based orientation and other education
activities.
Develops, implements, and evaluates the skills and development of nurse support personnel.
Completes CE's on an annual basis based on facility minimum requirements.
Member of a Professional Organization.
What You Need to Be Successful:
Licensure as a Registered Nurse in the state of Maryland, or eligible to practice due to Compact state agreements outlined through the MD Board of Nursing, is required.
BSN or Specialty Certification required.
Current AHA BLS certification required.
Must meet all unit specific certification requirements (ACLS, PAL, NRP)
Relevant clinical work experience related to practice on the unit.
For more information, call or text Jackie Sadock at 443-355-4628, or schedule a call at: https://calendly.com/jackie-sadock/informational-phone-call
We are an Equal Opportunity/Affirmative Action employer.  All qualified applicants will receive consideration for employment without regard to sex, gender identity, sexual orientation, race, color, religion, national origin, disability, protected veteran status, age, or any other characteristic protected by law.
What makes the culture unique?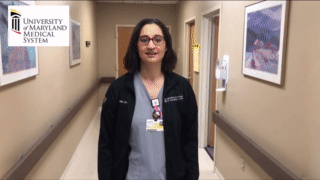 Video length: 23 seconds
0:23
I was so very thankful to be employed at St. Joe's during the pandemic. As a respiratory therapist and a frontline worker battling COVID every day, at the beginning, it was very scary, and we had no idea what was going to come of this. I felt safe and well taken care of by the University of Maryland St. Joseph's Medical Center, and I don't think I would have wanted to work at any other hospital in the area.

Similar Jobs
No jobs found.
Terms of Service | Need help applying? Contact our HR Connections Service Center: 1-855-486-6747
We are an Equal Opportunity / Affirmative Action employer. All qualified applicants will receive consideration for employment without regard to sex, gender identity, sexual orientation, race, color, religion, national origin, disability, protected veteran status, age, or any other characteristic protected by law. EEO IS THE LAW
Related Jobs