Description
COVID-19 Vaccine: All current and new team members, Medical Staff and partners, including contractors, volunteers and students, must be vaccinated against COVID-19 or have an approved medical or religious exemption. Learn More
RN-Shift Coordinator
Job ID: 98333
Area of Interest: Nursing
Location: Baltimore,MD US
Hours of Work: 8p-8:30am Every other weekend and holiday
Job Facility: UMMC Midtown Campus
Employment Type: Part Time
Shift: NIGHT
What You Will Do:
I.                    General Summary
The Shift Coordinator serves as the on-site shift resource for the Medical Center 24 hours/7days per week. The Shift Coordinator collaborates, coordinates, and communicates with administration, physicians, nurse management, staff, patients and support services and external agencies to facilitate the delivery of quality patient care. In collaboration with nurse managers, the Shift Coordinator assumes administrative responsibility for the Department of Nursing for assigned shift.  Serves as a liaison between Maryland Access Center (MAC) and nurse manager and assists unit personnel in problem solving, interpretation of institutional policies and procedures, and coordination of patient care services.
II.                 Principal Responsibilities and Tasks
The following statements are intended to describe the general nature and level of work being performed by people assigned to this classification.  They are not to be construed as an exhaustive list of all job duties performed by personnel so classified.
Maintains and communicates accurate information regarding availability and type of patient beds and services within the hospital to support patient placement.  Plans and coordinates patient and bed assignments with the MAC for the Emergency Department, Procedural Areas, and all access points in collaboration with requisite disciplines and providers within the organization.
A.            Promotes the mission, vision, and values of the organization. Interprets and enforces hospital and nursing policies, practices and procedures with staff, patients, the public and other members of the healthcare team in a consistent and equitable manner.
B.            Assess patient care requirements on each unit/area.
C.            Incorporates unit rounds into daily activities
As the primary resource for nursing personnel, responds appropriately to clinical issues; guides and directs staff according to nursing standards and practice.
Assess the acuity of care required by patients and communicates changes in patient condition or unusual events to the oncoming Shift Coordinator.
Coordinates staff utilization by assisting the charge nurse when necessary in identifying resources to meet the unit's needs.
Develop and implement staffing strategy for shift based on patient acuity, patient census and available staff; based upon information obtained regarding staffing needs from charge nurses on units.
Collaborates with all appropriate Coordinators (i.e. Trauma Coordinator, Neuro Care Coordinator) and Supplemental Staffing to assign available staff to inpatient units.
3.             Assists MAC with patient flow issues and works with clinical leadership to ensure safe staffing on patient care units. Coordinate local patient flow and bed access.  Monitors and evaluates patient flow and patient placement considering financial and regulatory issues.
Responds to crises and emergency situations (RRT, Code Blue) and assists as necessary.
Assists in placement and transport of acutely ill patients to ensure patient safety and coverage.
Report significant hospital events to the hospital administrator-on-call.
4.             Identifies and provides for specialized care needs of post arrest patients until planned transfer to the appropriate critical care unit is complete.  Oversees the interim management of patients requiring specialized care but who are not in intensive care units.
5.             Utilizes knowledge of legal principles that affect the provision of nursing care and educates nursing staff of those principles related to consent, blood administration, patient elopement, discharge against medical advice and other such issues.
6.             Collaborates with hospital and physician leadership to define, reduce and eliminate barriers within the system which may impede patient flow.
A.            Negotiates with physicians related to patient placement
B.            Works within the critical care model
C.            Negotiates off service patient placement with physicians, staff and managers
Works collaboratively with Maryland Access Center physician leaders and requisite physician leaders to resolve bed management issues
Communicates a rationale for placement decisions
7.             Ensures smooth functioning of the bed management process to reduce wait times and avoid unnecessary movement of patients.
A.            Makes timely bed assignment
B.            Triages/prioritizes admissions from multiple sites, i.e., community referral, Express Care, ED, etc., and internal transfers
C.            Manages complex decisions related to patient placement.
D.            Matches the clinical needs of patients with staff competencies and unit resources to optimize patient placement decisions
E.            Pre-assigns scheduled patients to beds
F.             Ensures patients are placed in a clinically appropriate level of care
8.         Maintains continuous knowledge of patient census, Alert Status, OR, STC Capacity Alert, or ExpressCare demands.
A.            Ensures continuous analysis of patient throughput.  Identifies barriers or process issues.
B.            Tracks bed turnaround time and analyzes variances.
C.            Prepares and communicates data on program outcomes to key constituencies communicating with managers in real time.
D.            Leads performance improvement efforts related to patient placement and access.
9.             Makes authoritative decisions regarding the following:
Places scheduled and emergency patients into an appropriate inpatient bed consistent with hospital guidelines. May maximize the use of inpatient beds to place patients.
In collaboration with appropriate providers, determines appropriate level of care based on the patient's clinical status and matches this with the competencies of a given inpatient unit.
Determines if there is a need to place patients in access points (i.e. PACU, ED, CCRU, landing zone) and ensures patients are safety transferred to assigned bed/unit.
Transfers or defers patients to system partner facilities with the agreement of the attending physician.
Negotiates times for transfer to UMMS from outlying hospitals and may deny admission when all access possibilities have failed.
Intervenes with patient/families discharge delays by coordinating transportation in conjunction with on-site and/or on-call Case Manager/ Social Worker.
Facilitates and evaluates patients to determine infection control cohorting based on infection control policies and procedures.
      Administrative Responsibilities
Anticipates and responds to patient problems or complaints that unit staff cannot resolve. Provides assistance in a courteous and quick manner with patients and family.
Informs the unit Manager and other appropriate administrators regarding situations that require further attention.
Collaborates with the Administrator-on-call to initiate and coordinate internal and/or external disaster plan or other emergency actions. Takes immediate action as required and in accordance with hospital policy, procedures, emergency codes, and disaster plans to ensure the safety of patients and staff until the Administrator-on-call can be reached.
Institutes immediate corrective action, as appropriate and required, according to UMMC Human Resource policies and procedures, with prior consultation with the employee's immediate supervisor whenever possible.  Provides written communication to the employee…What You Need to Be Successful:IV.          Education and Experience

Graduation from an accredited School of Nursing with a Bachelor's degree in Nursing required.
Current licensure in the State of Maryland or eligible for licensure.
Three years of nursing work experience in a Medical/Surgical and/or Critical Care unit is required.
BLS/ACLS certification required

We are an Equal Opportunity/Affirmative Action employer.  All qualified applicants will receive consideration for employment without regard to sex, gender identity, sexual orientation, race, color, religion, national origin, disability, protected veteran status, age, or any other characteristic protected by law.
How long have you been with UMMS and what has kept you here?
Transcript
Hi, I'm Sheila, I'm from the ICU. I've been here 12 years. I stayed here and I love it here because we're a small community hospital and this is a great team, so come to Midtown.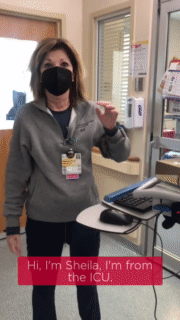 Hi, I'm Sheila, I'm from the ICU. I've been here 12 years. I stayed here and I love it here because we're a small community hospital and this is a great team, so come to Midtown.
Similar Jobs
No jobs found.
Terms of Service | Need help applying? Contact our HR Connections Service Center: 1-855-486-6747
We are an Equal Opportunity / Affirmative Action employer. All qualified applicants will receive consideration for employment without regard to sex, gender identity, sexual orientation, race, color, religion, national origin, disability, protected veteran status, age, or any other characteristic protected by law. EEO IS THE LAW