Description
COVID-19 Vaccine: All current and new team members, Medical Staff and partners, including contractors, volunteers and students, must be vaccinated against COVID-19 or have an approved medical or religious exemption. Learn More
MG Clinical Nurse I
Job ID: 110195
Area of Interest: Nursing
Location: Baltimore,MD US
Hours of Work: 1900-0730
Job Facility: UMMC Midtown Campus
Employment Type: Full Time
Shift: NIGHT
What You Will Do:
Clinical Nurse I (RN) – Med Surg 3 North
Full-time – Night Shift
UMMC Midtown – Baltimore, MD
SPECIFICS ABOUT THIS POSITION:  The Clinical Nurse I (CN-I) is a member of the health care team and renders nursing care to all patients within her/his assigned unit/area, assuring the nursing process is followed from admission through discharge.  The CN-I collaborates with other members of the health team, delegates appropriately to support staff and directs care to assure the patient's care needs are met.  The CN-I is expected to exercise good judgment in the care of patients and the management of personnel.  The CN-I promotes teamwork with physicians and personnel from other units/areas/departments.  The CN-I must stay current with standards of practice through ongoing education relevant to nursing, such as the Nurse Practice Act.  The RN's actions and attitudes will promote and support the hospital's mission and core values.
The CN-I is able to integrate technical competencies while integrating the biopsychosocial aspects of patient care.  He/she applies critical thinking skills in problem solving and caring for groups of patients, frequently with guidance from preceptor or more senior nurse.  He/she consults others for assistance in recognizing his/her strengths and areas in need of professional growth.  He/she complies with the Maryland Practice Act.
He or she demonstrates an understanding of patient safety goals, hospital and nursing quality performance measures, and patient education.  He/she strives to ensure best practices are being met for clients through active collaboration with other disciplines.  He/she brings to the attention of supervisory staff issues, which he/she cannot resolve at the unit level.
ABOUT UMMC:

UMMC, the System's flagship academic hospital located in Baltimore City, is ranked as #2 both in the state of Maryland and Baltimore Metro area. UMMC also ranked #44 nationally for the Ear, Nose, and Throat (ENT) specialty and as "High Performing" in Cancer, Gastroenterology and GI Surgery, Orthopaedics, Pulmonary and Lung Surgery, and Urology services. Earlier this year, the University of Maryland Children's Hospital, located at UMMC, was ranked as one of the "Best Children's Hospitals for Cardiology and Heart Surgery" for the fifth consecutive year.
University of Maryland Medical Center (UMMC) has achieved Magnet status in recognition of the hospital nursing excellence. UMMC is a teaching hospital with 757 beds based in Baltimore, Maryland, that provides the full range of health care. It has more than 35,000 inpatient admissions and 165,000 outpatient visits each year. The R Adams Cowley Shock Trauma Center (also known as Shock Trauma) is the world's first center dedicated to saving lives of people with severe, life-threatening injuries sustained in motor vehicle collisions, violent crimes and other traumatic incidents. Our vision is to provide high value and compassionate care, improving health in Maryland and beyond, educating future health care leaders and discovering innovative ways to advance medicine worldwide.
ADDITIONAL JOB SUMMARY:
Performs assessments and reassessments, as appropriate for the patient's needs, collecting data from all sources to assist with formulating a nursing diagnosis.
Develops an individualized Plan of Care, based on the patient's assessment, with mutual, realistic and measurable goals and documents this thoroughly in the patient's record.
Coordinates and directs available resources and personnel in developing and following the Plan of Care.
Performs treatments, including medication administration, as ordered by the physician and carries out nursing interventions in accordance with the Plan of Care.
 Evaluates the patient's response to treatments/interventions through reassessment and revises the Plan of Care as necessary.
 Documents assessments and reassessments, thoroughly, accurately and on time.  Documents any changes to the Plan of Care and communicates these changes to team members.  Documents treatments/interventions including medication administration thoroughly and per hospital policy.
 Assesses patient's teaching needs, and plans patient education accordingly.
 Completes patient and family teaching, assesses understanding and document accordingly.
 Communicates effectively with other members of the health care team to ensure continuity and coordination of care, appropriate care delivery and to report changes in patient's condition.
 Facilitates safe and timely patient throughput, including admission/transfer/discharge, diagnostics and therapeutics.
 Complies with hospital policies and practices in all aspects of care and professional behavior.
 Follows Joint Commission (TJC) and Center for Medicare and Medicaid Services (CMS) standards as part of routine practice.
 Attends and actively participates in unit staff meetings.
 Supports Shared Governance.
 Demonstrates support and compliance with UMMC Midtown Campus' mission, vision, values, philosophy, goals objectives and policies.
 Performs additional functions to assist the Clinical Manager and other activities as assigned.
What You Need to Be Successful:
Licensure: Currently licensed in the State of Maryland.
Experience: Graduate from an approved Nursing School (CN IV requires BSN see attachment) may be required or preferred in some areas. Positive interpersonal/communication/supervisory skills. Computer skills preferred
We are an Equal Opportunity/Affirmative Action employer.  All qualified applicants will receive consideration for employment without regard to sex, gender identity, sexual orientation, race, color, religion, national origin, disability, protected veteran status, age, or any other characteristic protected by law.
What brings you joy in your role?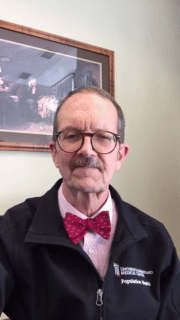 Video length: 57 seconds
0:57
Now I would tell you the thing that brings me the greatest joy in the role that I've had now for half a decade here at the University of Maryland Medical Center is the privilege of caring for our neighbors, the people of West Baltimore, who when you ask them where they go when they're sick or where their loved ones would go if they were sick, they tell you they'd go to University. And by University, they mean us. We're the hospital that serves West Baltimore. We're the hospital really recognized across the city as the place people want to go when they really need help, with something's wrong with them. And increasingly we're recognizing our role in the community as the anchor that brings together all the players to the table to address health-related social needs. Things that healthcare systems never used to really pay attention to. We have the privilege of that role as a part of this institution, and we get to participate in seeing this institution increasingly take on that challenge of our community.

Vice President Population Health
Terms of Service | Need help applying? Contact our HR Connections Service Center: 1-855-486-6747
We are an Equal Opportunity / Affirmative Action employer. All qualified applicants will receive consideration for employment without regard to sex, gender identity, sexual orientation, race, color, religion, national origin, disability, protected veteran status, age, or any other characteristic protected by law. EEO IS THE LAW
Related Jobs