Description
COVID-19 Vaccine: All current and new team members, Medical Staff and partners, including contractors, volunteers and students, must be vaccinated against COVID-19 or have an approved medical or religious exemption. Learn More
Licensed Practical Nurse - Adult Psychiatry
Licensed Practical Nurse – Adult Psychiatry
Job ID: 108172
Area of Interest: Nursing
Location: Baltimore,MD US
Hours of Work: m-s
Job Facility: UMMC Midtown Campus
Employment Type: Full Time
Shift: ROTATING
What You Will Do:
The Licensed Practical Nurse is a member of the health care team and renders nursing care to all patients within her/his assigned unit/area, implementing the nursing process from admission through discharge, under the direction of and in collaboration with the Registered Nurse.  The LPN collaborates with other members of the health team, delegates appropriately to support staff and directs care to assure the patient's care needs are met.  The LPN is expected to exercise good judgment in the care of patients and is accountable for the patient care delivered.  The LPN must stay current with standards of the Nurse Practice Act.  The actions and attitudes of the LPN will promote and support the hospital's mission and core values.
Duties and Responsibilities:
Collects health status data relevant to the patient's presenting problem in a continuous, systematic, and complete manner.
Assists with the development of an individualized Plan of Care based on mutual, realistic, and measurable goals and documents this thoroughly in the patient's record.
Demonstrates organizational abilities that prioritize patient care needs in the planning and implementation of nursing care.
Coordinates and directs available resources and personnel to implement the Plan of Care.
Performs treatments, including medication administration, as ordered by the physician and carries out nursing interventions in accordance with the Plan of Care.
Evaluates the patient's response to treatments/interventions revises the Plan of Care as necessary.
Documents all aspects of patient care, medication administration, interventions, and changes to the Plan of Care according to approved policy.
Provides teaching for patients, families and significant others according to the Plan of Care and documents accordingly.
Communicates effectively with other members of the health care team to ensure continuity and coordination of care, appropriate care delivery and to report changes in patient's condition.
Facilitates safe and timely patient throughput, including admission/transfer/discharge, diagnostics, and therapeutics.
Complies with hospital policies and practices in all aspects of care and professional behavior.
Maintains adherence to regulatory standards in all aspects of nursing practice.
Respects the rights, dignity, and confidentiality of all patients.
Attends and actively participates in unit staff meetings.
Utilizes chain of command to communicate issues and seek resolution.
Demonstrates support and compliance with UMMC Midtown Campus' mission, vision, values, philosophy, goals objectives, and policies.
Performs additional functions to assist the Clinical Manager and other activities as assigned.
What You Need to Be Successful:
Licensure:
Currently licensed in the State of Maryland.
Experience:
Graduate from an approved nursing school.
Positive interpersonal/communication/supervisory skills.
Computer skills preferred.
1-2 years of experience preferred.
We are an Equal Opportunity/Affirmative Action employer.  All qualified applicants will receive consideration for employment without regard to sex, gender identity, sexual orientation, race, color, religion, national origin, disability, protected veteran status, age, or any other characteristic protected by law.
What aspect of UMMS' culture keeps you at the company?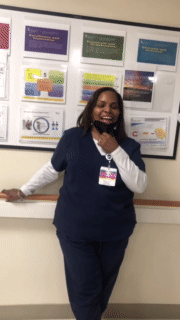 Video length: 37 seconds
0:37
Hi, I'm Trina, okay. [crew indistinct] Hi, I'm Trina and I chose Midtown because of the family feel, the family atmosphere. Everybody tends to get along. We're a big family, but we do get disjointed but we all work together to care for our patients. I started here in the emergency department, a long time ago. And then I worked as a clinical supervisor for eight years and I've now progressed to being a clinical manager, on the post acute unit, which I love. This is a big family feel, the patients are even like family. Just going in and talking to them. So why Midtown? Because it's a big family.
Similar Jobs
No jobs found.
Terms of Service | Need help applying? Contact our HR Connections Service Center: 1-855-486-6747
We are an Equal Opportunity / Affirmative Action employer. All qualified applicants will receive consideration for employment without regard to sex, gender identity, sexual orientation, race, color, religion, national origin, disability, protected veteran status, age, or any other characteristic protected by law. EEO IS THE LAW
Related Jobs