Description
COVID-19 Vaccine: All current and new team members, Medical Staff and partners, including contractors, volunteers and students, must be vaccinated against COVID-19 or have an approved medical or religious exemption. Learn More
Front Office Coordinator - Pulmonary
Front Office Coordinator – Pulmonary
Job ID: 106936
Area of Interest: Clerical
Location: Glen Burnie,MD US
Hours of Work: M-F (8am-4pm)
Job Facility: UM Baltimore Washington Medical Center
Employment Type: Supplemental/Per Diem
Shift: DAY
What You Will Do:
Front Office Coordinator – Pulmonary
UM Baltimore Washington Medical Center – Executive Building
PRN – Day
Glen Burnie, Maryland
The Power of Caring
Within all of us there is untold power. An unstoppable strength. A desire to do more.
At University of Maryland Baltimore Washington Medical Center, we know that caring can't be taught, it's something that comes naturally.
We're looking for talented professionals to join our extraordinary Front Office Coordinator Team at UM Baltimore Washington Medical Center — named Top Workplace in the Baltimore area by The Baltimore Sun two years in a row (2019 & 2020); Named Top Workplace in the USA for 2021!
As part of the acclaimed University of Maryland Medical System, our facility is one of three ANCC Pathway to Excellence® designated hospitals in Maryland and features one of the state's busiest emergency departments, as well as a team of experts who care for our community and one another. As a Top 10 Maryland hospital ranked by U.S. News and World Report, UM BWMC is the pulse that keeps Anne Arundel County moving forward.
Job Summary:
Under moderate supervision, performs a variety of clerical activities to support clinical operations including customer service, telephone management, scheduling, registration, and copay collections. Ensures that all provider schedules are appropriately populated, telephones are managed, and complete registration information is captured prior to or during each patient visit.
Principal Responsibilities and Tasks:
The following statements are intended to describe the general nature and level of work being performed by people assigned to this classification. These are not to be construed as an exhaustive list of all job duties performed by personnel so classified.
Receives and screens visitors and telephone calls. Provides general information in person and on the telephone.
Calls patients to verify appointments.
Verifies patient demographic information including insurance verification prior to the patient visit for all pre-scheduled patients. Performs data entry of patient demographic information. Types letters and faxes information as needed.
Registers all patients at each visit utilizing established policies for the capture of complete and up-to-date patient and insurance information Receives and documents patient responsible payments including co-payments, past balance payments, and other patient-responsible charges.
Schedules patients for physician visit. Maintains and updates appointment calendars.
Processes all referral requests by physicians and patients within a timely manner and according to clinic procedure.
Notifies clinical personnel of patient arrival.
Maintains entry log of incoming visitors.
Processes and delivers departmental mail.
Prepares examination room for patients. Cleans examination rooms between patients and at the end of the day.
Tracks down labs on patients and follows up with lab companies when errors occur.
Coordinates files and office information – updates charts, labs, x-rays, dictated notes, etc.
Pulls and prepares charts for current and follow-up appointments.
Processes and maintains medical records in accordance with records protocols.
Discharges each patient via established policies, including charge entry for current visit if appropriate, scheduling of future appointments, facilitation of ancillary procedures as necessary, and provides for the patient a receipt for services rendered.
Performs other duties as assigned.
As a member of our team, you'll experience:
A supportive and collaborative work environment.
A comprehensive benefits package including health, vision and dental coverage including prescription drug coverage – Tax-Free Savings Plans, Tuition Reimbursement and more!
Work Life Balance: You'll accrue annual leave; we offer dependent care reimbursement, short/long term disability and an employee assistance program.
Growth & Educational Assistance: We support your continuing education and career advancement by offering tuition reimbursement & continuing education options.
What You Need to Be Successful:
High School Diploma or equivalent (GED) is required.
One (1) year of customer service experience required. One (1) year relevant front-desk experience preferred. Experience within a healthcare environment preferred.
Certification in scheduling and registration preferred.
Ability to interact with personnel of all levels within the organization and work within a multi-disciplinary team environment.
Interpersonal skills, customer orientation and an outgoing and pleasant demeanor.
Prior experience and demonstrated competence with patient or customer information systems.
Highly effective verbal, written and interpersonal communication skills to communicate effectively with all levels hospital staff, patients, visitors, and levels of staff.
We are an Equal Opportunity/Affirmative Action employer.  All qualified applicants will receive consideration for employment without regard to sex, gender identity, sexual orientation, race, color, religion, national origin, disability, protected veteran status, age, or any other characteristic protected by law.
What is the culture like on your team?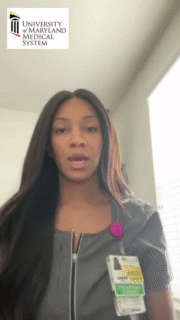 Video length: 34 seconds
0:34
I believe the respiratory therapists within our hospital are very well-respected, and we tend to be valued as a team member when coming to patient care. We work very well with our multi-disciplinary staffing to make sure we come up with the best care for our patients, and our opinions actually matter and they're valued. And you would see that a lot of our physicians and nurses will come to us for recommendations, and we work very well for an overall plan. So this is something that's great for our community.

Similar Jobs
No jobs found.
Terms of Service | Need help applying? Contact our HR Connections Service Center: 1-855-486-6747
We are an Equal Opportunity / Affirmative Action employer. All qualified applicants will receive consideration for employment without regard to sex, gender identity, sexual orientation, race, color, religion, national origin, disability, protected veteran status, age, or any other characteristic protected by law. EEO IS THE LAW
Related Jobs