Description
COVID-19 Vaccine: All current and new team members, Medical Staff and partners, including contractors, volunteers and students, must be vaccinated against COVID-19 or have an approved medical or religious exemption. Learn More
Central Sterile Processing Technician (Certified) - NU
Central Sterile Processing Technician (Certified) – NU
Job ID: 110323
Area of Interest: Clerical
Location: Baltimore,MD US
Hours of Work: M-F 3-11
Job Facility: UMMC Midtown Campus
Employment Type: Supplemental/Per Diem
Shift: ROTATING
What You Will Do:
Process, inspect, and pack complex instrument trays utilized in surgery, labor and deliver and nursing services.
Performs processing and assembly of ERT and special carts, including documentation of same in the absence of available Central Supply Distribution personnel.
Operates steam and Sterrad sterilizers to include proper documentation.
Performs visual inspection of packages during and after processing, checking for damage, expiration or correct labeling.
Decontaminate and clean reusable items and medical equipment according to department procedures.
Performs housekeeping duties related to supply processing.
Dispense supplies and/or equipment to designated areas based on par levels or requisition.
Adheres to the Hospital and Central Sterile policies, procedures and safety precautions.
Conducts routine inspections of CSP and user storage areas to assure quality of sterile items.
Perform other department duties as assigned.
Demonstrates the use of equipment in a safe and proper manner.
What You Need to Be Successful:
High school diploma or equivalent.
Certified in Sterile Processing from a recognized association such as; International Association of Health care Central Service Materiel Management (IAHCSMM) or National Institute for the Certification of Healthcare Sterile Processing and Distribution Personnel (NICHSPDP) is required within six months of date of hire.
One year of experience in sterile processing and instrumentation preferred.
We are an Equal Opportunity/Affirmative Action employer.  All qualified applicants will receive consideration for employment without regard to sex, gender identity, sexual orientation, race, color, religion, national origin, disability, protected veteran status, age, or any other characteristic protected by law.
What brings you joy in your role?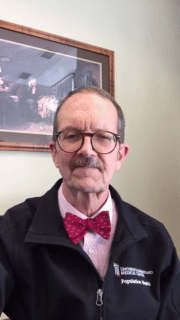 Video length: 57 seconds
0:57
Now I would tell you the thing that brings me the greatest joy in the role that I've had now for half a decade here at the University of Maryland Medical Center is the privilege of caring for our neighbors, the people of West Baltimore, who when you ask them where they go when they're sick or where their loved ones would go if they were sick, they tell you they'd go to University. And by University, they mean us. We're the hospital that serves West Baltimore. We're the hospital really recognized across the city as the place people want to go when they really need help, with something's wrong with them. And increasingly we're recognizing our role in the community as the anchor that brings together all the players to the table to address health-related social needs. Things that healthcare systems never used to really pay attention to. We have the privilege of that role as a part of this institution, and we get to participate in seeing this institution increasingly take on that challenge of our community.

Vice President Population Health
Similar Jobs
No jobs found.
Terms of Service | Need help applying? Contact our HR Connections Service Center: 1-855-486-6747
We are an Equal Opportunity / Affirmative Action employer. All qualified applicants will receive consideration for employment without regard to sex, gender identity, sexual orientation, race, color, religion, national origin, disability, protected veteran status, age, or any other characteristic protected by law. EEO IS THE LAW
Related Jobs