Description
COVID-19 Vaccine: All current and new team members, Medical Staff and partners, including contractors, volunteers and students, must be vaccinated against COVID-19 or have an approved medical or religious exemption. Learn More
Care Manager
Job ID: 101298
Area of Interest: Nursing
Location: Towson,MD US
Hours of Work: M-F 8-4:30
Job Facility: UM St. Joseph Medical Center
Employment Type: Full Time
Shift: DAY
What You Will Do:
Job Summary
The Care Manager coordinates the care and service of selected patient populations across the continuum.
He/ she works collaboratively with physicians and other members of the health care team to achieve the
highest quality clinical outcomes with the most cost effective use of available resources. The Care Manager
assumes responsibility for an interdisciplinary process which assesses, plans, implements, monitors and
measures the effectiveness of interventions to meet patients' treatment and transitional needs.
Job Responsibilities and Accountabilities:
CARE MANAGER
COLLABORATION: Collaborates with physicians and other health care professionals to promote appropriate use of medical center resources. Provides physicians and ancillary departments with data on treatment outcomes and avoidable delays in order to promote highest quality care. Communicates and negotiates with outside agencies, including insurance carriers, in order to obtain needed services for patients and accurate reimbursement for medical center. Works with interdisciplinary team to coordinate needed services to ensure efficient continuity of care.
DOCUMENTATION AND MEASUREMENT: Uses severity of illness/ intensity of services indexes to determine appropriateness of admissions, transfer and continued stays. Documents actions in medical record according to departmental guidelines and oversees process of exchange of information with other facilities/ agencies adhering to legal mandates regarding confidentiality. Measures effectiveness of interventions through direct communication with patients and caregivers and data collection of defined indicates (e.g. overall length of stay, readmission rates, feedback from referral services, etc.).
PATIENT CARE: Plans for care needs with active involvement of patient, significant others and hospital staff involved in treatment process. Oversees implementation of transition plans with support from internal and external agents. Monitors patients' progress and adequacy of planning process through regular communications with patients and service providers. Provides information and support to patients and families, helping them access needed resources within the medical center and community.
PROBLEM SOLVING: Identifies problems or gaps in community resources that impact outcome and takes leadership role in efforts to effect changes. Takes a leadership role in identifying opportunities to reduce risks, both financial and clinical, through analysis of resource consumption outcomes.
Working Environment
May be exposed to limited hazardous substances or body fluids, or infectious organisms.
May be exposed to radiation/electromagnetic energy.
May be exposed to toxic, caustic, chemicals, and / or detergents.
May perform emergency care.
Organizational Expectations
Adheres to and exhibits our core values: Reverence: Having a profound spirit of awe and respect for all creation, shaping relationships to self, to one another and to God and acknowledging that we hold in trust all that has been given to us. Integrity: Moral wholeness, soundness, uprightness, honesty and sincerity as a basis of trustworthiness. Compassion: Feeling with others, being one with others in their sorrows and joys, rooted in the sense of solidarity as members of the human community. Excellence: Outstanding achievement, merit, virtue; continually surpassing standards to achieve/maintain quality.
Attends staff meetings and completes mandatory in-services, requirements and competency evaluations on time.
Compliance: Understands regulatory requirements with regard to compliance and all other laws and regulations that apply to the organizational operations (e.g. Code of Conduct) and how these regulations apply to the individual's role/ department/ unit. Proactive in addressing compliance issues; reporting through appropriate channels such as supervisor, chain of command and Ethics Point. Completes mandatory introductory and ongoing training within the specified timeframes.
Maintains current knowledge in present areas of responsibility (i.e., self education, attends ongoing
educational programs).
Works collaboratively and supports efforts of team members. Demonstrates exceptional customer service and interacts effectively with physicians, patients, residents, visitors, staff and the broader health care community
What You Need to Be Successful:
Education
2 year / Associate's Degree (Required)
High School Diploma or GED (Required)
4 year / Bachelor's Degree (Preferred)
Certification / Licensure / Registration
State Registered Nurse License (Required)
CCM Case Management Certification (Preferred)
Experience and Skills
2 – 4 years Familiarity with health care reimbursement systems (Required)
4 – 6 years Acute care hospital or similar venue. (Required)
2 – 4 years Case management, discharge planning or utilization management (Preferred)
Required Skills: Strong Verbal Communications Skills, Strong Written Communications Skills, Excellent
Interpersonal Skills, Medical Terminology
Physical Requirements and Physical Demands
Adequate hearing to perform job duties in person and over the telephone. Hears alarms/telephone/tape
recorder/normal speaking voice.
Must be able to accurately document pertinent information either by writing or typing.
Must be able to communicate clearly in person and over the telephone.
Balancing: Occasionally within shift (1-33%)
Bending: Occasionally within shift (1-33%)
Climbing: Occasionally within shift (1-33%)
Kneeling: Occasionally within shift (1-33%)
Lift above shoulders/head: Occasionally within shift (1-33%)
Lift from floor level up: Occasionally within shift (1-33%)
Lift from waist level up: Occasionally within shift (1-33%)
Lifting 10 lbs. maximum and occasionally lifting and/or carrying articles: Occasionally within shift (1-33%)
Lifting 20 lbs. maximum and frequent lifting and/or carrying of objects weighing up to 10 lbs: Occasionally
within shift (1-33%)
Pulling with force: Occasionally within shift (1-33%)
Reaching above head: Occasionally within shift (1-33%)
Reaching above shoulder: Occasionally within shift (1-33%)
Sitting: Frequently within shift (34-66%)
Squatting: Occasionally within shift (1-33%)
Standing: Frequently within shift (34-66%)
Walking: Frequently within shift (34-66%)
We are an Equal Opportunity/Affirmative Action employer.  All qualified applicants will receive consideration for employment without regard to sex, gender identity, sexual orientation, race, color, religion, national origin, disability, protected veteran status, age, or any other characteristic protected by law.
What makes the culture unique?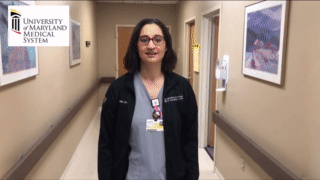 Video length: 23 seconds
0:23
I was so very thankful to be employed at St. Joe's during the pandemic. As a respiratory therapist and a frontline worker battling COVID every day, at the beginning, it was very scary, and we had no idea what was going to come of this. I felt safe and well taken care of by the University of Maryland St. Joseph's Medical Center, and I don't think I would have wanted to work at any other hospital in the area.

Terms of Service | Need help applying? Contact our HR Connections Service Center: 1-855-486-6747
We are an Equal Opportunity / Affirmative Action employer. All qualified applicants will receive consideration for employment without regard to sex, gender identity, sexual orientation, race, color, religion, national origin, disability, protected veteran status, age, or any other characteristic protected by law. EEO IS THE LAW